Fernando Ortiz
Official Concept Art of Fernando.

Vital statistics

Position
Taxi driver
Age
20
Status
College Student

Physical attributes

Height
6'2
Weight
187
Fernando Ortiz is a supporting character, often being seen with Angelica. Fernando like Angelica is Mexican-American. Although he suffers from being recognized as American instead of Mexican-american due to his poor accent.
Personality
Fernando is very irrational when he's even a tiny bit upset. He believes life is never ending spiral of problems pilled by more problems. Rarely does he give off words of wisdom though he makes up for it with loyalty and respect for his fellow man.
Physical Appearance
He's slightly chubby, Fernando is probably the biggest one of the bunch and even then. He isn't nothing to really shy home about. He's light skinned, brunette eyes and hair. Often wearing whatever he feels like wearing. Though occasionally wears blue since it's the only color he likes.
History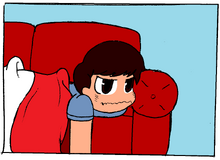 Appearing in Episode 1-Welcome to Havana, Fernando and Tsubasa's history is shaky from the start. Believing Tsubasa is a weak leader and will only lead there party into failure. He does what he can to prove that he's right, until a debate is started proving everyone and himself wrong that Tsubasa is a strong political leader. This gave Fernando the self-respect that he desperately needed. Requesting opinions from Tsubasa immediately, he became dependent on the leader.
When Tsubasa moved to Cuba, he was followed after him but due to his lack of Spanish, his self-learning Spanish was terrible. Often asking Tsubasa and Angelica for assistance in learning it with him. Giving the Cuban government that his national origins were from Spain. He accepted a job as a taxi driver, though after beginning. The work world took it's course on him.
It's shown off that he is a tad sexist when it comes to sporting events, in Episode 3 heavily criticizing the women players until he eventually took a baseball in the face. Rendering him blind until Episode 6. Fernando is shown revealing that he suffers from a growing blindness and depression. While he keeps his blindness a secret from Angela, it is shown that he also attracts the attention of a Government agent known as "Santiago" who's objective is to watch over him as Fernando is the least suspected member of his group who's suspected of a government conspiracy.
Trivia
Fernando is the only member of the 4 main characters who has a drinking problem.
Mentioned in Episode 5, Fernando's obsession with Sex is the only thing that keeps him focused besides work and the thought of college.
Community content is available under
CC-BY-SA
unless otherwise noted.